Cape Town offers a huge variety of neighbourhoods, each one boasts their own unique set of sights, people, foods, and proximities. Whether you're visiting for a relaxing beach getaway or to experience the liveliness of an energetic South African city, there are a variety of considerations that will help you select the perfect area to stay. We've provided our insider perspective on everything you need to consider when planning your trip to Cape Town.
Cape Town is geographically divided by Table Mountain into two main sections: the City Bowl and the Atlantic Seaboard. Within the City Bowl, you'll find the areas of Woodstock, Vredehoek, Oranjezicht, Gardens, Tamboerskloof, CBD, Bo-Kaap, the Waterfront and De Waterkant. The Atlantic Seaboard includes Mouille Point, Green Point, Sea Point, Three Anchor Bay, Fresnaye, Bantry Bay, Clifton, Camps Bay, Bakoven, and Llandudno.
Woodstock
This artsy, "up and coming" area is equated to places like Brooklyn, NY. Woodstock is definitely a mecca for creatives who live and work in this suburb which, while still a bit rough around the edges in some of its pockets, is just 10 minutes from the City Bowl.  
Worth noting is that the famous Old Biscuit Mill is two minutes away in nearby Woodstock, playing host to delicious farm stalls, restaurants, designer stores as well as festivals and productions. You'll also be within close proximity to popular restaurants like the Test Kitchen and Potluck Club.
You'll also discover internationally recognized street art composed by both locals as well as international artists in residence. If you're looking for a grittier perspective on the city, this is the place for you, but if safety is a primary concern, you might consider another area.
Gardens
The Gardens district is the perfect area for those seeking a more local experience. Within walking distance to the popular Kloof Street where you will find a variety of local restaurants and retail shops, make sure to grab a coffee from the hidden gem, Deluxe Coffeeworks. 
Experience a proper high tea at the Mount Nelson Hotel or stroll down the historic Company's Garden, which was the first garden setup by the Dutch East India Company.
The Gardens district offers a variety of guest house-style accommodation that is great for couples, families and travellers seeking a more local side of Cape Town.
Tamboerskloof, Oranjezicht & Higgovale
These quiet, upmarket residential neighborhoods that surround the city bowl are wonderful areas to find a boutique guest house. Many offer stunning views of the city and harbour from the slopes of Lion's Head and Table Mountain. Similar to Gardens, the popular Kloof Street is within walking distance and is bound to make you feel like a local. 
Central Business District (CBD)
Until recently, the CBD has been most popular with business travellers attending conferences at the CTICC. But in the last few years, places like Bree Street have developed into must-visit destinations for foodies and fashionistas.
In rapid succession, you'll find the coolest restaurants, bars and retailers that are redefining the face of Cape Town style and substance. Events like First Thursdays, which happen the first Thursday of every month, bring the area alive with access to all kinds of open galleries and street foods.
Accommodation is sparse in the area but does provide quick access to areas like lively Long Street, Gardens, Green Point and the Waterfront.
Bo-Kaap
The Bo-Kaap neighborhood is home to the iconic colourful houses (pink, orange, lime green and turquoise), many of which date back to the 1750s. This lively community comprises a blend of cultures that descend from slaves imported by the Dutch in the 1700s.
They came from Africa, India, Sri Lanka, Malaysia and the Indonesian Archipelago. Cape Malay food has earned a reputation combining fruit, spices, vegetables and meat and can be sampled in a number of traditional restaurants in the area.
Safety can be a concern in the area so it is advised not to walk in the area at night and to stay alert during the day.
V&A Waterfront
The V&A Waterfront is both a working harbor as well as one of the most popular tourist destinations in Africa.
With amazing views over Table Bay and a backdrop of  Table Mountain, this ticks all the boxes for those looking for seaside dining, luxury shopping opportunities and an easy access point to many of the bucket list items like Robben Island, the Two Oceans Aquarium, sailing, yachting and much more.
De Waterkant
De Waterkant is a tiny enclave that has evolved into a shopping area with cobbled streets and a fine square (Cape Quarter) surrounded by restaurants, and there is no shortage of nightlife. Known as Cape Town's gay and lesbian area, there are plenty of clubs and bars nearby in addition to a variety of longstanding popular restaurants.
Get access to exclusive travel tips, expert advice and our latest hidden gems waiting to be discovered.
Atlantic Seaboard Neighbourhoods
Mouille Point
Mouille Point is situated between the V&A Waterfront and nearby Sea Point. It sits on the beachfront promenade and is mostly filled with high-rise apartments, restaurants and delis.
The most iconic feature of this area is the candy-striped lighthouse, which is the oldest operational lighthouse in the country.
This sleepy spot isn't recommended for revellers but is worth renting an apartment for a family or couple seeking out a sea view and close proximity to amenities of the Waterfront.
Green Point
Green Point is a trendy residential area best known for housing the Cape Town Stadium that was built for the 2010 FIFA World Cup. Looking a bit like a UFO, this iconic piece of the Cape Town city skyline is popular for big concerts when they come to town.
Many boutique guest houses are nestled into the winding streets of this area with lots of opportunities for walking down to local hotspots like iconic Giovanni's Deli as well as down to the Sea Point promenade.
Sea Point & Three Anchor Bay
Sea Point is most well known for the aptly named Sea Point promenade, which draws locals and visitors for walking, bike riding and jogging or just people-watching. The extensive promenade runs the length of Sea Point's beachfront, from Bantry Bay to Mouille Point.
You'll find a number of children's parks, an outdoor gym, public art and there is a chlorinated swimming pool at the pavilion that is open during the summer. There are a few hotels, guest houses and apartments in the area and provide a seaside experience that isn't far from stunning beaches or day trips outside the city.
Fresnaye
Fresnaye enjoys some of the most expensive real estate along the Atlantic Seaboard. Known for its spectacular views of the Atlantic, Table Bay and Robben Island as well as its shelter from the often cruel south-easterly wind. Camps Bay and Clifton are within walking distance but it is recommended to rent a car or take an uber if you plan on going into town.
Bantry Bay
Bantry Bay may not have an actual beach to call its own nor its own set of shops and restaurants but the incredible views and protection from the wind make it a highly sought after place to stay.
Clifton
The four Clifton beaches in Cape Town are regarded as being amongst the most wonderful in the world. Coves of soft white sand separated by giant boulders that protect them from the summer breeze, each of the four beaches attract a different crowd.
If you love outdoor sports on the beach then you should visit the Clifton First Beach. It is a veritable playground of sporty people. Popular beach sports that are played at Clifton include volleyball, touch rugby and Frisbee. There are also showers and bathrooms on First beach which are useful after all that outdoor activity. Do you have a dog? Don't hesitate and bring him with you, because dogs are allowed.
Second and Third beaches are good if you're not the sporting type – Second beach is gay-friendly and Third beach is good for getting that all over (topless) tan. Fourth beach is the perfect beach for families because it has the most space, a place to buy cold drinks and snacks and has lifeguards and great facilities.
From these four beautiful beaches you'll have an amazing view of the sparkling waters of the Atlantic Ocean and right up to the majestic mountain peaks of Lions Head and the 12 Apostles, part of the Table Mountain range.
Camps Bay
Summer is buzzing in Camps Bay with its main road lined with palm trees, restaurants and cocktail bars overlooking fine white sands and awe-inspiring sunsets! Camps Bay is popular with both families and summer revelers with wide open beaches and plenty of places to stop and grab a sundowner. Be advised that Camps Bay can get very windy and in the crazy summer months (Nov-Jan), traffic can be bumper-to-bumper, leaving this a less ideal place to stay if you plan on visiting places outside of the city.
Bakoven
Bakoven is an intimate beach area hidden between Camps Bay and Llandudno Beach. It's small and seriously protected by locals, but its natural beauty and the perfect combination of big rocks and white sands make it a haven for sunbathing and sundowners alike. Bakoven has been called Camps Bay's baby sister and is a little more exclusive. You're close to the action but away from the noise when you choose so. What this exclusive beach lacks in public facilities it makes up for in privacy and peace.
Llandudno
Llandudno is comprised of a crescent shaped beach that lies at the base of the steep slopes of the last of the Twelve Apostles. The beach is also one of the most photogenic in Cape Town and a favourite for beach sports like surfing, volleyball, rugby and a preferred picnic spot for families.
Llandudno Beach offers no shops or restaurants however but that does keep the beach a bit more private and exclusive. A short 5-minute drive takes you to Hout Bay, a quirky fishing town with plenty of restaurants, shops and fun activities around the corner.
This is a great destination for those looking for a beach holiday away from it all but not recommended for active travellers that want to be in the thick of it all.
Bloubergstrand
Across the bay and just about twenty minutes out of Cape Town city centre and the V&A Waterfront, Bloubergstrand, along with surrounding areas such as Tableview and Big Bay, offer unsurpassed views across the bay of Table Mountain and Robben Island, boasting open stretches of white sandy beaches.  This is a great holiday destination for families, but beware that the notorious South Easter blows gales across the bay during summer, which can make the beach unattractive to kids but world-famous for kite surfers and surfers who congregate there each year!
In terms of safety, as with any other city in the world, Cape Town has pockets of areas that are not as safe as others but it is hard to put your finger on exactly which they are.  Nighttime in areas such as Woodstock, Sea Point, Green Point and the busy City Bowl, especially along famous streets like Long Street, simply means that you need to take a little extra care, as you would anywhere else that is crowded, vibey and packed with people from all over the world out to have a good time!
Naturally, a little research is required before you decide on what kind of holiday you are looking for, if it's a quiet holiday you are looking for in Cape Town then looking at outlying suburbs like Constantia or as far out along the False Bay coast such as Simonstown or Muizenberg will be a better bet for you.  It's a bit of a trip to the city centre, but, wherever you drive the views are beautiful, which is well worth keeping in mind.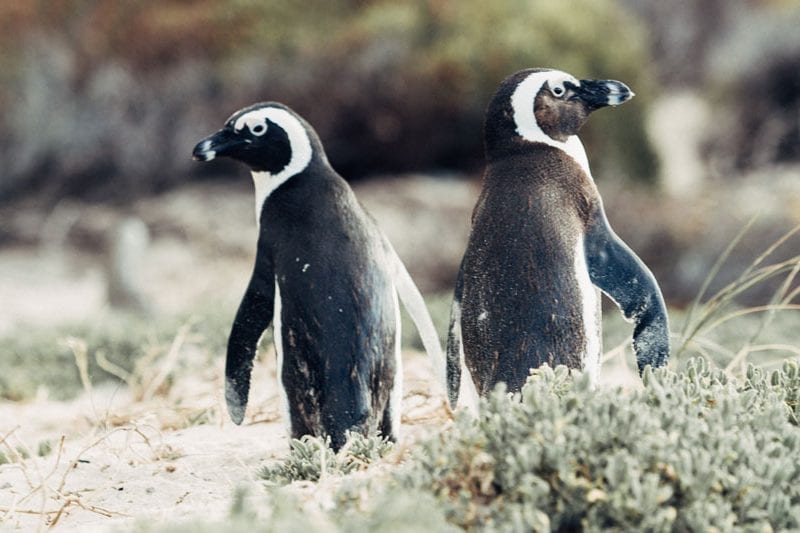 Enjoy a breathtaking journey around the Cape Peninsula and Cape Point and capture picture-perfect photos from every angle...'from the waves to the winelands'
From / person
Full Day Private Tour
Explore the majestic city of Cape Town and discover it's hidden gems while ticking off the best of your bucket list
From / person
Full Day Private Tour
Discover the breathtakingly beautiful views and vistas of Franschhoek and the world class-wines of Stellenbosch during this luxury, private tour.
From / person
Full Day Private Tour